Visit Tritech light and sound

Welcome to the STREAM STUDIO Page of Broad Street Studios.
Starting mid March 2020 you can now bring your content to the Internet threw STREAM STUDIO.
Use our Sound Stage , fully equipped with Audio, Video, and Intelligent lighting for your performance for your fans.
A video wall and intelligent lighting system will compliment your performance as you stream and record your project for your audience. There is also a Interview stage available for any kind of unplugged performance or discussion related content that is relevant to your audience. The streaming product offered at Broad Street studios is multi purpose. Wether you need local accesses to stream and record STREAM STUDIO can provide the platform you need to get your message out.
Live performance of all genre of music is the hart of our work. We can also help produce Political or Faith based relevant content as well as comedy. STREAM STUDIOS can deliver your content to 2 platforms at once with Pro AV technoligy. We offer virtual sound check as part of the package.
Send your live streams anywhere with STREAM STUDIOS . Stream to any service, including Facebook Live, Youtube Live, Twitter/Periscope, Twitch and more. STREAM STUDIOS will connect and broadcast to your chosen destinations using our international backbone, ensuring best possible reliability and performance.
A live streaming platform that allows 24/7, worldwide streaming, anytime. Unlike many other services, live broadcasts can't run endlessly. Live streams are not limited in duration.
With over 100 global nodes, our live streaming platform is optimized for performance, not cost. Our high performance network will stream videos to your viewers at the fastest possible speeds, resulting in reliable viewing.
STREAM STUDIO helps you connect with your audience, by streaming your amazing live music perfomances.
STREAMSTUDIO IS a new kind of music streaming that has yet to make it to the tops of Google, and you definitely don't have to be Radiohead to do it. In fact, there are unsigned musicians making a living right now playing music for global audiences from STREAMSTUDIOS.
You can build a highly engaged fan base from scratch and interact with viewers in real time, no tedious editing of YouTube videos (or 500 takes of the same song) required. Best of all, perfection isn't the key to a successful broadcast. It's more about breaking down the barriers between performers and audiences and making genuine connections with people.
INTEVIEW STAGE
The atmosphere is so super casual, erring much more on the side of a long conversation than a formal performance. Extended noodling around on guitar or piano, singing a cappella, and chatting with viewers in the middle of songs are common practice at STREAMSTUDIOS.
One often-forgotten truth is that great live music — even when recorded and replayed — makes for great television. The musicians' interplay, the combination of hard-earned skill and raw physicality in the playing… when it all coalesces, it can be like watching riveting theater or a sporting event going down to the wire.
So much of what we see on our screens and hear on our stereos is processed to the point of genial blandness. But someone stepping up to a microphone and singing in front of cameras can still feel urgent and real, no matter how well-rehearsed the show is.
STREAM STUDIOS
FACILITY VIEW
STREAM STUDIOS
CAMERA 1 VIEW
STREAM STUDIOS
INTERVIEW SET
STREAM STUDIOS
CAMERA 2 VIEW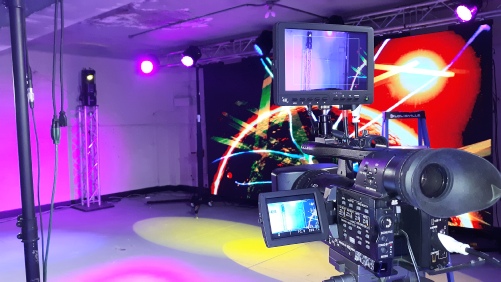 STREAM STUDIOS
CAMERA 3 VIEW
STREAM STUDIOS PRESENTS
THE DOUG HART BAND
SATURDAY MAY 16 8 PM
Click above to see that stream
Broad Street Studios , 20 north Broad street Middletown Ohio, 45042
CELL 513-464-1182 john@broadstreetstudios.net OFFICE 513-424-9527